Aaaw..another voucher treats!
This time is for Churreria by Disdus.
The deal was IDR 37500 valued for 75.000, we can get:
Classic churros with dessert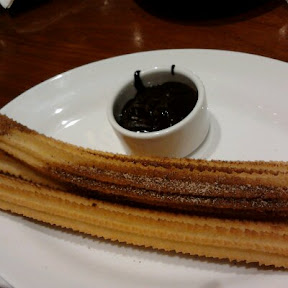 The churros with 3 choices of dipping sauce: dark chocolate,chocolate milk and caramel.
And these are three choices of desserts: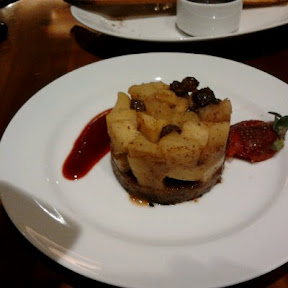 apple crumble..love the texture of the base,love the sweetness from the raisins and the sour from the apple...love it BIG TIME! ;)
Me,Oni and Othine are apple lovers. Because i knew they will order that apple crumble,i choose this :
Passion fruit creme bruléé. And i just looooove it much! Its good to have something fresh and light when there were too much chocolate,hahaha xD
And Mba Dea ordered this for her
I forgot the name...sorry. Mba Dea told me that this is sooo good. I didn't try it but i can see that this one's so yummy.
these are the happy faces
Ocha,Oni,Othine
Mba Dea and Me
Soo good to have all of these in a very good price :)).. I am so gonna buy more vouchers ;p
posted from Bloggeroid